Who would win?
Paraglider harness CFD analysis
Link to the project: here.
Which kind of paraglider harness have less drag, providing better glide ratio?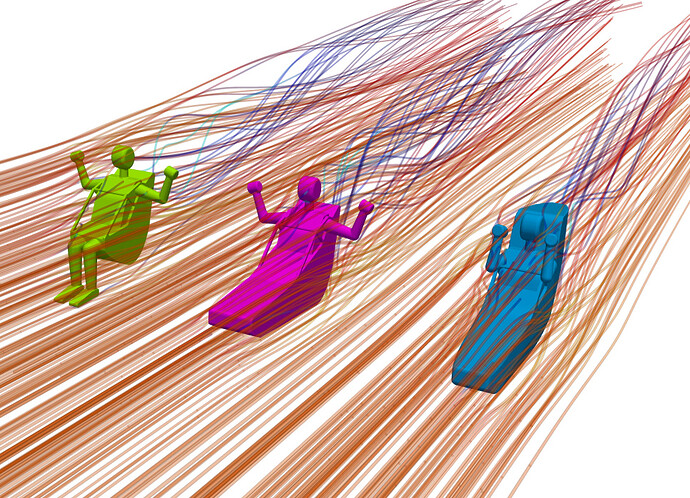 Normal (green)
Cocoon (purple)
Fairing (blue)
A new trend has arisen in the paragliding community, the use of Cocoon/Fairing harness. Even beginner pilots tend to buy this kind of equipments in order to achieve better results during XC (cross country) flights. Harness manufacturers advertise their products as they can provide better performance due to the reduced drag, hence increasing glide ratio .
Glide ratio can be defined as the ratio of height loss and vertical distance travelled per unit time. The ratio of lift and drag is also equivalent to this parameter.
During this investigation I try to find out wether the choice of harness really has such a significant effect on this parameter. What is the effect of different sitting positions? How can one reduce the drag?
I used SimScale & it's community, Onshape, Paraview, prior knowledge based on SimScale Academy courses, trials and errors, engineering studies, and my flying experiences.
From time to time I will upload one post per topic (pre-rocessing, simulation, post-processing, conclusion etc.) so if you are interested in the results, feel free to follow this thread!
You may pose questions or doubts anytime here, or via PM.
It is important to note, that the conclusions presented in this blog are not scientifically proven! The author is not an aerodynamicist, nor a CFD specialist! The author is aware that the investigation is based on simplifications and rough estimations. These points will be highlighted later on in the essay.