Hi @grosua
Regarding mesh independence is always a very important aspect of any CFD study, but again it depends on what kind of accuracy and deep insight you are looking for. Usually it is a no-brainer in involving it in your study I think.
I understand where you got your velocity values from, you actually showed the residuals of the velocity, but I meant what you showed in the post 4d ago, where you plot the velocity along a line in the domain.
What I would like to see is, if we plot this line multiple times, each time at a different increasing number of iteration. At some point, will it stop changing significantly. I do not know if that makes sense. So here a quick sketch of what I mean: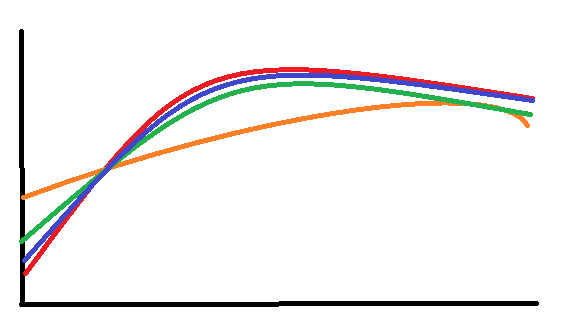 So in this graph, suppose on the horizontal axis is the x coordinate, and y axis is for example the velocity of the fluid in y direction Uy. Red line is theortically the exact solution. Orange line is solution after 3k iteration, green after 6k iteration and blue after 9k iteration for example. You can see that with increasing number of iteration you get closer and closer to the exact solution. Take note, this is not related to mesh independence, though you can make a similar study for mesh independence in this way.
So what you showed in your post is what I am looking for. If you could plot them in the same figure it would make more sense, so you can see how the 3k iteration velocity profile, is relative to the 6k and 10k and so on.
Just looking at those values, it seems like the value does not change significantly, so regarding number of iterations I think it is good.
Also the residuals you showed previously, would seem for me satisfactory regarding the convergence of the flow field, with respect to number of iterations.
So I think we can proceed with what you want to achieve initially. The test case is done for now I propose, if needed we can take a look later. I think we could now run, a more complete simulation, with the things we have learnt so far. For example the T1 relaxation factor and number of iterations?
If you tell what direction you want to go into, that might help.
Kind regards,
Tolga
Ps: sorry for late reply