This post involves dates and times so for reference I am making this post on Tuesday May 24th around 8:30am, all the times I reference are in EST. I am a senior in high school and am trying to run a CFD simulation of a Formula 1 car model that I designed for a research project. I followed this tutorial to setup my simulation, making a few changes to fit my model. I was able to run it for the first time on Sunday May 22nd at around 11:00. It failed part way through due to divergence, the error message recommended increasing mesh resolution. I had not set the location and size of my mesh refinement boxes correctly. I have now modified the refinement boxes and re generated the mesh. I have tried many times to run the simulation again but keep getting the error shown below.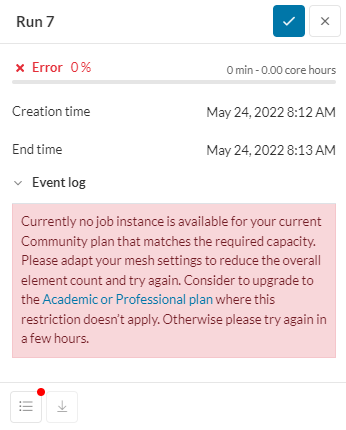 I have tried many runs on Monday: at 8:30pm, 10:20pm, 11:20pm. I also tired to run it at 8:15am on Tuesday. I need to have this simulation run by the end of Wednesday the 25th, the earlier the better.
Is there a time that commonly allows Community account members to run simulations of this size? I learning CFD for the first time with this project. Could I reduce the size of my simulation significantly enough to let me run it, and what would be the best way to do this? My project does not require a high degree of accuracy from the simulation, I would just like to be able to make a few general statements about the car's performance. Do I have any other options for getting this simulation run? Thanks for any help.
This is a link to my project: SimScale