How to rescale Pedestrian Wind Comfort PWC Analysis results for reference wind speed
The numerical simulation for PWC analysis are run with automatic calculation of the Wind Inlet conditions.
The wind inlet conditions are defined by the Atmospheric Boundary Layer profile. To calculate this for all PWC simulations a Reference wind speed of 10m/s at 10 m height is used based on the standards (see Here ).
So the default results, Average and Transient results for each wind direction are with respect to a reference of 10m/s wind speed at the inlet.
See the example result below: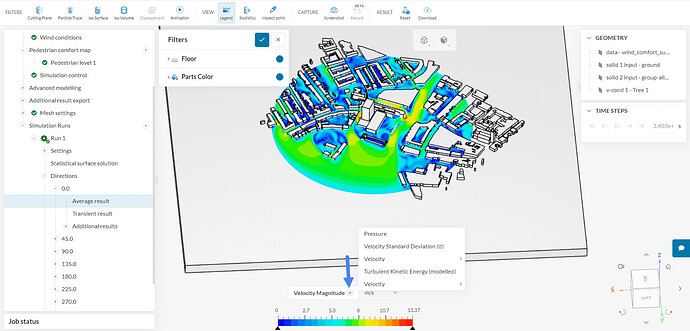 .
Now to re-scale your result to a different Inlet wind speed , for example 5 m/s and to know the local windspeeds based in the 5m/s reference , you can re-scale the results in the post-processor by using the 'Calculator Filter'.
Please Note: the re-scaling assumes that the flow remains fully turbulent at the lower wind speed also to have the same flow topology. so re-scaling to very low values e.g less than 4m/s may not give the true results.
See the short Video below on how to do that:
LINK
.
Please note: when entering the calculator formula , you have to press Enter after each input.