I am trying to use a plastic screw extruder that I have and I would like to have it fill a cavity that I machine with an inlet and outlet hole. A simple mans injection mold/casting machine
The cavity is a 'pillow' shape and I need to make sure that the pillow cavity is 100 % full when the plastic exits the outlet (no air pockets). Possibly at different inlet flow rates and temperature of the cavity surface if I have to.
The cavity inlet is on one pillow corner and the outlet is on the diagonally opposite corner.
I believe that I can obtain a filling flow velocity of up to 0.14 m/s at the inlet and also have a zero pressure outlet.
I am unsure about how to define my material kinematic viscosity. This is some information I know about my 'polypropylene' like plastic:

Here is what the pillow looks like: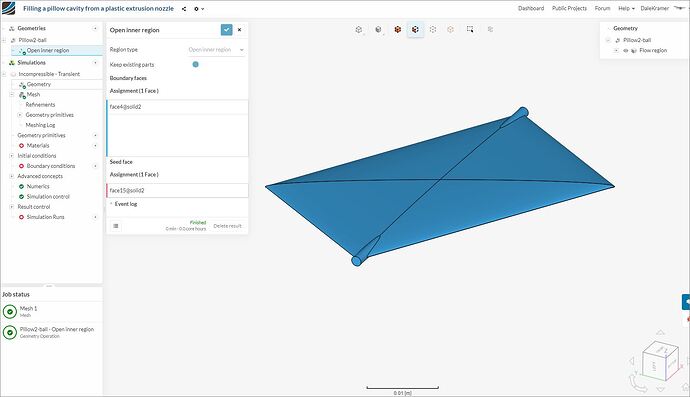 Here is a link to the project so far.
I am also unsure about how to define my boundary layers (turbulence model and parameters etc) for this material and whether I have enough material specs to make this work.
I assume I wanted a transient incompressible simulation so I have started one in the project but right now I am stalled.
I have not find any successful projects/tutorials concerning plastic flow through a cavity.
I may have to vent the other two pillow corners with holes smaller than the outlet and if I see plastic coming out the outlet before I see plastic come out both the corner vents, then I plug the outlet until plastic comes out both corner vents at which point the pillow should be full and it could be removed to cool, but it would be nice to try to simulate this
Any help would be appreciated…
Thanks,
Dale