Hi,
I'm trying to run a compressible flow simulation of an impeller/diffuser system of my micro gas turbine.
The geometry consists of the Fluid domain and Rotating zone.
I've gone with the hex dominant settings for the mesh which gave me mesh consisting of the fluid volume and rotating zone.

I haven't changed any mesh settings except for its name.
The simulation failed giving me an error that said "A multi-region mesh was assigned - this analysis-type requires a single-region mesh".
The following picture shows the error.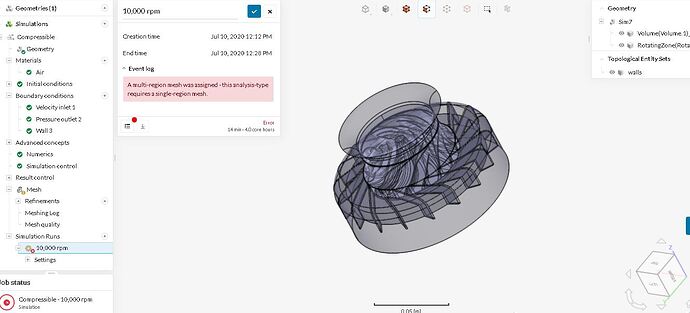 This is the link to my project :
https://www.simscale.com/projects/vkarads/axial_centrifugal_compressor2/
I've referred to the tutorials like that of the centrifugal pump and a project such as this one
I'd be grateful for the help.