Project:
Description + Goal
A representative wind tunnel simulation of given car - to calculate drag/lift values, analyse airflow and identify problem zones
Problem:
Near end of simulation when states "100%" error occurs without any indication why. Here is error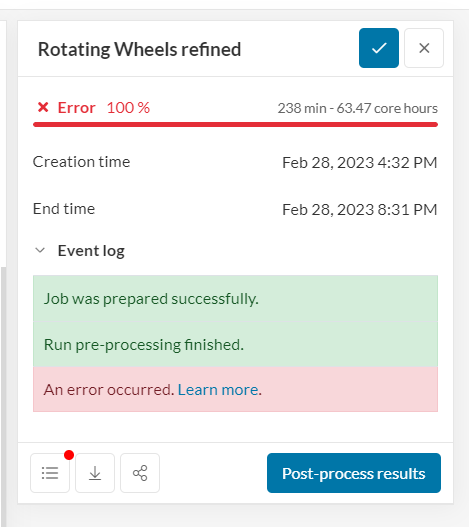 link provided for solution approach: Fatal IO Error: An Error Occurred | SimScale Knowledge Base. Data seems to be fine since all force and momentum values have been calculated and graphed. Guess that error occurs while creating the solution field data/visualizations since there only the first iterations can be viewed (e.g. until iteration 180 of 500)
occured in last 3 runs -since new mesh was used, which was suppose to be more detailed therefore precise + also with different model using same parameters for mesh generation.
Not sure what to try since the error doesn't speak and appears after everything seams to have worked fine.
Thanks in advance
Linus