I'm trying to run a simulation of a reactor containing a hot air plus a viscous liquid flow.
.
The hot air flows through the little holes near the output of the liquid:

The liquid flows through all of the reactor. The flow is achieved by actively rotating the star like inner part of the body: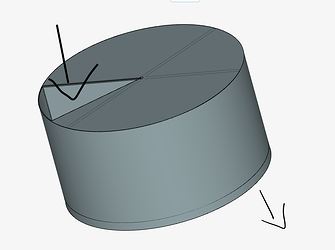 I already tried this tutorial How to Prepare the CAD for Simulating Rotating Zones | SimScale on how to achieve said rotation and created a rotation zone on my CAD (I use NX) but cannot get past the CAD part of simscale itself. Has anyone encountered similar problems or already knows how I can work past that? When I try to do what the tutorials says I receive the following error notification:

I made a copy of the project public so you guys can see what I have done so far: https://www.simscale.com/workbench/?pid=139418490514480235&mi=geometry%3A10&mt=GEOMETRY
Thanks for the help!