Please see the attached .jpg with a screenshot of my project.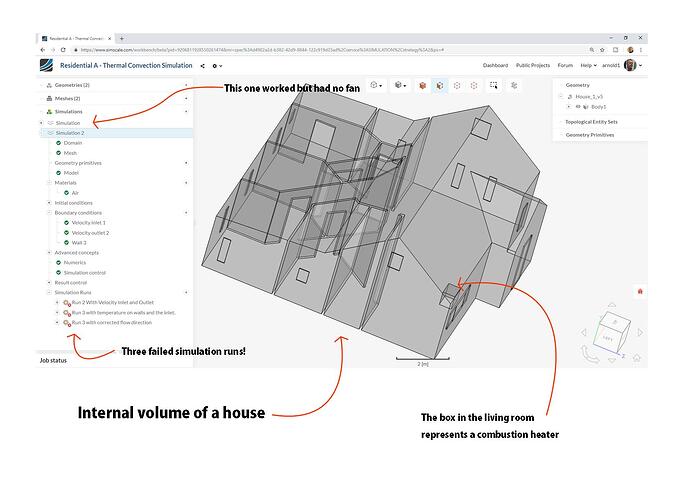 I'm experimenting with my students trying to do a thermal convection simulation based on Milad Mafi's project in the public folder.
Here's mine:-
https://www.simscale.com/projects/arnold1/residential_a_-_thermal_convection_simulation/
I've made the internal volume of a house in Fusion 360 and it imported easily into Simscale. The first simulation had all the walls of the house at 273 degrees kelvin and the heater in the living room is a box with its walls at 773K (like a wood heater without a fan). This gave us some results however I was unable to get tracer particles to show.
To try and show tracer particles I thought I'd change the simulation (see the second one) so that there is a velocity inlet being one of the sides of the heater and an velocity outlet, one of the windows at the back of the house. The simulation failed three times and I tried a couple of things to see if it was about my boundary conditions having the wrong directions or something.
The solver log mentions a problem with mass inflow and mass outflow. Do I need to have these perfectly balanced?
Would you please take a look and see if there's something that could be changed to make this work?