SimScale got a new upgrade again. It features a box selection tool in our 3D viewer which is the first step of upcoming features in our the viewer. To understand just have a look at on of the highest voted features Improve 3D navigation in the Vote for features section.
As always, make sure to provide your feedback about the new features in the comments below this post and feel free to add feature requests or vote for existing suggestions in our Vote for features section.
Box selection tool
This tool allows you to select multiple entities at once by drawing a rectangle in the viewer. It helps particularly when selecting many entities that are similar and/or ordered in a certain pattern like for example many outlet openings in an HVAC application or screws in solid mechanics assemblies.
There are two different modes.
Dragging from the left to the right selects all entities that are completely contained by the drawn rectangle - visible and covered parts. The box appears in blue with a continuous line at the borders.
Dragging from the right to the left selects all entities that are at least partly contained by the drawn rectangle - visible and covered parts. The box appears in yellow with a broken line at the border.

Units displayed across the user interface
Over the past releases we successively added units to all values in the user interface that have a physical unit attached to them and were missing before. Examples are:
The scale in the 3D viewer allowing for quick visual feedback on dimensions and scaling
Geometrical properties in the event logs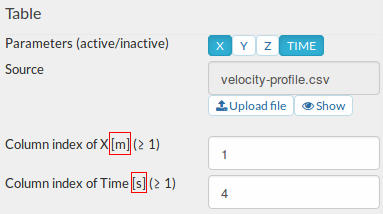 Name change of copied assets
Copied assets like meshes or boundary conditions are not name with the original names followed by a "2" counter anymore. We now add "Copy of" in front of the name. This should be an incentive for users to add descriptive appendages to the names to make future referencing easier and also help other community users understand better what has been done in the project.

Table upload for write control in Solid mechanics
This feature allows the write control to be managed similar to the time stepping via table upload. This is particularly interesting for transient simulations involving physical contacts like for example snap fits.