With the latest release on 17th of May we added some highly requested features and improvements making it much easier to interact with our Support team and get help right away!
See all additions in detail below. As always, make sure to provide your feedback about the new features in the comments section below and feel free to add feature requests or vote for existing suggestions in our Vote for features section!
Real-time interaction with our Support Team
Did you ever get stuck in a project and it took you quite some time to figure out the solution? Did you have questions regarding your setup with the need to get them answered right away? Then stop wasting your time and make use of ours!
You can now interact in real-time with our Support Team via our workbench chat. The team is happy to help you. We can also have a look at your project together. Simply share your project with us.
Paying Customers not charged for failed jobs
Since the beginning of April paying customers on SimScale are not charged for failed mesh and simulation jobs anymore. We want our customers to be successful on SimScale. Independent on the reason causing your job to fail like dirty CAD models or inconsistent boundary conditions setups to name the most frequent ones our mission is to help you resolve those issues with you or, even better, for you. You can still see error-jobs in your Usage overview under Manage Account, but the core hours are not subtracted from your core hour quota.
SimWiki - Everything you need to know to get started with CAE
The SimScale SimWiki is a place where you can learn the most important terms related to and needed for the understanding of computer-aided engineering (or engineering simulation).
Within this Wiki, you will find explanations of concepts, features, equations in connection with Finite Element Analysis, Computational Fluid Dynamics and Thermal Analysis.
Improved Visibility Options in the 3D-Viewer
We introduced some new options to visualize and hide different parts while working with the 3D-Viewer during your mesh or simulation setup. Those come in handy particularly when dealing with entity pairs like for example in Bonded Contacts in solid mechanics simulations or Interfaces in Conjugate heat transfer applications.
Additional Help and Info for failed jobs
We added additional information and support options to the failed job dialogue. Thus, you get all the information and tools at hand you need to solve your issue in the moment the problem occurs. The linked, dedicated documentation sections tell you what to do next to solve your issue on your own. Our Support Team is happy to assist as well!
Standard Analysis Type changed
The standard analysis type has been changed to "Static analysis - advanced". Most experienced users are leveraging the additional features like boundary conditions, advanced numerics and nonlinearity-options of the advanced solvers in FEA simulations. That is why these analysis types are already used the most. As also new users are interested in the complete feature set and all options that SimScale offers we adapted the default solver now accordingly. This change does not have any effect of your past projects and simulations.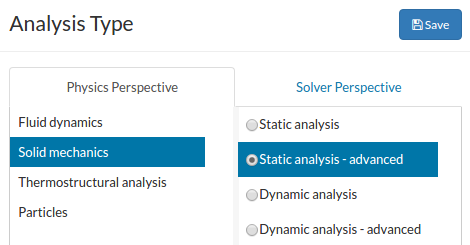 Volume Selection for Temperature Loads
We added a small improvement to temperature loads in FEA-based thermomechanical and heat transfer analyses by enabling volume selection. This feature was asked for and voted up by users in the Vote for features section here.
Stay tuned for further improvements and see you around in the chat!