\underline{\textbf{August, 13th 2019}}
---
\underline{\textbf{August, 16th 2019}}
A new meshing algorithm can be found in your mesh selection panel as 'New mesh preview'.
Radiation can now be enabled for Convective Heat Transfer analyses! Find the documentation here.
A new automated workflow for setting up interfaces for Conjugate Heat Transfer analyses is available. Find the release blog post here.
Given that your simulation setup is complete, it is now possible to queue a simulation run before the assigned mesh has been successfully generated. Find the release blog post here.
Thermal comfort parameters (PMV&PPD) can now be computed as additional result control items.
Support has been added for native CATIA files (*.CATPart, *.CATProduct) to our CAD import options.
Changing assignments in Mesh refinements after the Mesh was successfully created is now allowed in the Mesh setup workflow.
To improve the workflow, if the geometry consists fully or partly of surface geometry (which was a constant concern in Mesh generation):

Icons in the Geometry scene tree in the top right indicate if a geometrical body is a solid or a surface part.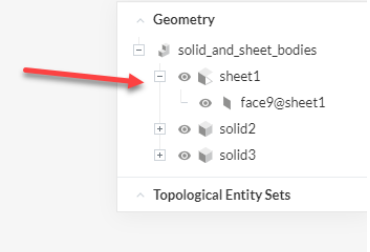 By default we try to automatically sew and solidify surface geometry during CAD import.
Prior to meshing we display additional validation checks and warnings in case the surface geometry is still present and could affect the meshing success.
The warning for faces without boundary condition assignment on simulation run start has been removed.
---