Hi,
I am doing a project on displacement ventilation and I am having problems with the geometry that I have imported.
I would like to do the convective heat transfer simulation and I understand that I would only need 1 solid for this operation (for the flow region). I have tried a few ways to make the whole geometry 1 solid in my CAD software but nothing seems to be working.
I am using Sketchup to create the model and I would import it into Rhino and save the model in that file format before importing. Would appreciate any suggestions on what I can do in Sketchup/Rhino to ensure that the whole geometry comes out as 1 solid.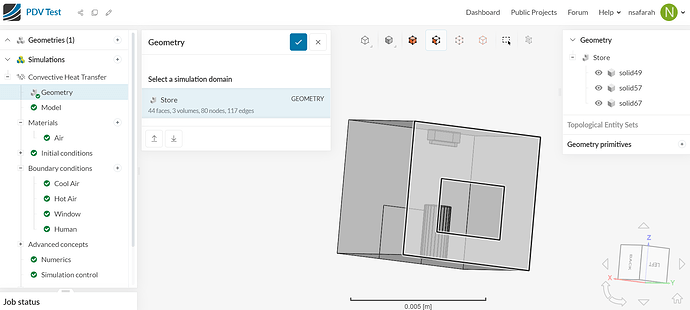 FYI:
Solid 49 - Room
Solid 57 - Cooling coil
Solid 67 - Heat source
This is the link to my project:
https://www.simscale.com/projects/nsafarah/pdv_test_1/
Appreciate any help! Thanks.