Hello! I am relatively new to CFD simulations, but am working on a project looking at fluid flow through lattice type structures. I am having a lot of trouble generating the meshes from the CAD geometries I am exporting from Autodesk Netfabb. I have little experience with CAD, so I am assuming some imprecision in my geometry is causing the mesh generation to fail.
The meshing error is "A multi-region mesh is being used in a single-region analysis type. Please make sure that all regions except for one have an advanced concept assigned to them."
Since I want to simulate flow through the structure, I generated the flow volume by performing a boolean on a cylinder and a lattice structure (generated via the lattice commander tool in Autodesk). I exported this as a .stl to SimScale. I have pictures of the geometry attached below: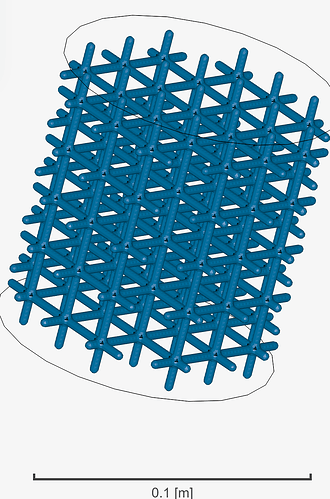 How would I determine where my mesh generation is failing, so that I can modify the CAD properly? Any help is appreciated.