Hi there,
I have been recently trying to improve the y+ value for my simulation.
I have two boundary inflation layers which are shown below, along with the images of the inflation i have included the calculation for the wall spacing (calculated as total height). The calculator link is HERE
For the first image it shows the floor of the flow domain, which has a total length of 2100m, for the ABL i have defined I used the free stream velocity at a height of 0.01m. The boundary conditions applied here is a no-slip conditions with a wall function. I used a y+ value of 1 in the calculation.

The second shows the building surface, for this i used a slip condition, the building width is 30m and is used in the calculation of wall spacing as shown. The velocity at total building height was used to calculate the cell height. Here i used a y+ value of 50, this was to attain a y+ between 30 and 300.
In the above picture i have shown that for the floor the surface layer thickness input is half the calculator value and in the building surface i have shown i did not do this. This is done because i am unsure as to what method is correct.
I have checked if the inflation has been applied and got the following, my question regarding this part is that is this acceptable?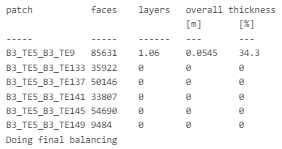 Any help with what I can do what be appreciated, the link to the project is below.
https://www.simscale.com/workbench/?pid=6115884880025137414&mi=spec%3Abeb2a529-8e76-49da-b377-f3defa209c9b%2Cservice%3ASIMULATION%2Cstrategy%3A225&ps=analysis%2FboundaryConditions%2F2
The image below shows the y+ values,