I noticed that when using Custom Inlet-Outlet with ZeroGradient pressure condition, that the air does not generally enter and exit the mesh at 0Pa. This is bothersome since I would really like to investigate the internal pressure inside a paraglider wing with respect a farfield air gage pressure of 0 Pa.
Until I investigated how to ensure that the air entering and exiting the mesh is at 0 Pa, I simply have to determine the relative difference of the inside airfoil Pa and a farfield pressure (which is generally the pressure at the lower corner of the entrance face). Here is an example (Note: the farfield pressure and the internal pressure are only coincidentally the same here because of the low AoA of the run):
ZeroGradient -30Pa farfield 3aoa 10mps OPENorg2 -100to60Pa scale.png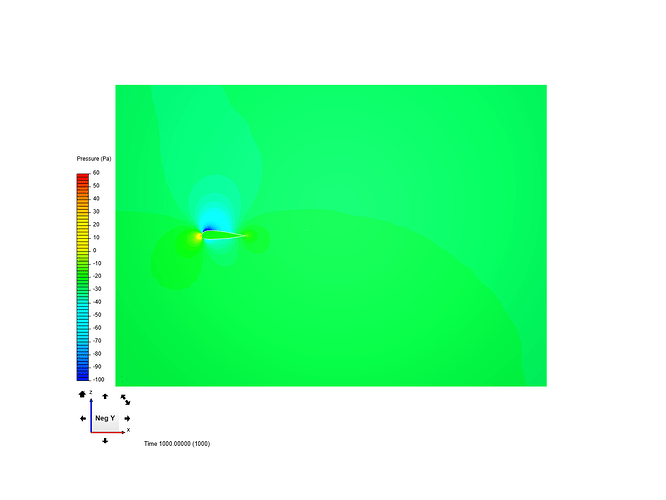 Next I have investigated using the FixedPa=0 condition and yes, the farfield pressure does move to zero and everything LOOKS fine as you can see in this image:
FixedPa=0 0Pa farfield 3aoa 10mps OPENorg2 -100to60Pa scale.png

BUT, looks are deceiving
, the Forces Results of these two runs are about 15% different!
Any ideas out there as to why, in the ZeroGradient run, the Pressure Moment y is 161 Nm and the Pressure Force z is 80.7 N, while for the FixedPa=0 run, the Pressure Moment y is 140 Nm and the Pressure Force z is 70.7 N
Here is the project https://www.simscale.com/projects/DaleKramer/unfinished_2s_-_mentor_xs_paraglider_root_airfoil/
Thanks,
Dale