I need some help adjusting the snap settings for my geometry. I am exporting a step file that models a butterfly valve partially open. The section near the axis has a small gap that I need to include in the model. It becomes more important as the valve closes.
My issue is the Snappy Hex Mesh is "closing" the small gap. I have used surface refinement on the pipe wall, axis surface, and disc surface. Those help but it still wants to "jump" across the gap and close the gap.
Picture of hole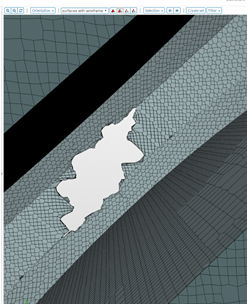 prior attempts to resolve with refinement techniques

I believe my issues is in the SNAP settings. I have played around with them but haven't figured out how to make this a clean mesh.
I have temporarily closed the gap by decreasing my Base Mesh cell size such that it is much smaller than the gap. This is somewhat annoying because it requires a fine mesh for the entire system, making the simulation more CPU intense. I also changed the snap tolerance and a few other iterations.
Is there a way to adjust the snap controls without having to reduce the base mesh size?