Dear SimScale community,
I'm reaching out to you again.
Below you can find the project:
https://www.simscale.com/workbench?publiclink=54506b68-eb3d-4333-8b0c-268534394a7c
I'm to simulate a frame which is mounted on rubber elements and is excited by two unbalanced motors. The two motors are fixed to the frame in such manner that one rotates in clockwise the other in counter-clockwise direction giving only vertical movement to the system.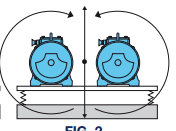 I'm curious about the magnitude of vibrations and the stresses in the structure.
So I guess Harmonic simulation is the right choice. The question is how you define the periodic excitation at one point in a direction and at an other point opposite direction?
Thank you in advance!