Hi,
I am running as test a simple duct with single inlet and multiple outlets.
I set BC such us inlet velocity and fixed outlet pressure = 0. Incompressible k-e model.
link: https://www.simscale.com/workbench?publiclink=4233bb4e-5ac5-47d4-82c7-76464c86fa9b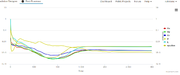 Convergence plot seems ok, meshing log OK (no Bl for now), but results shows that velocity jumps
to non physical values (like 2 orders of magnitude higher thatn the inlet condition of 14m/s)
I am a little bit lost in which is going wrong, if BC, mesh, geometry?
please any help welcomed.
Regards