Hey everyone,
I wanted to add some updates to this topic. First of all i had success with the simulations in my first post. I found that i missed a decimal place on one of the rotating wheel conditions that sent it 6000 meters away and not 0.6 meters haha.
Anyways, I have since received results from 3 simulations that i wanted to share.
First is the results from my first sim that was failing - Radius_19_Run_1.1_Sim_3
Second are the results from two sims of the SAME MESH with the only difference being the number of Non-Orthogonal Corrector Loops. - Radius_19_Run_2.3_Sim_1 & 2
Run 1.1 _ Sim 3
Two things to notice in this table.
The simulation Run 1.1 had a max non-orthogonal setting of 70 resulting in 5045 illegal Non-ortho cells in the mesh. The mesh for Run 2.3 was set to 75 deg, resulting in only 82 illegal cells. This however did not drastically effect the results.
They are different geometries (wing AoA was changed) so i expected different values, but they are not way off. Somewhat of a indication to the question of how illegal cells effect the simulation.
Between Simulation run 1 & 2 of the Run 2.3, the only change was the number of Non-Ortho correctors, changed from 1 loop in the first sim to 0 in the second sim. These results however show a difference which leads me to believe that one run could be oscillating around a more correct solution.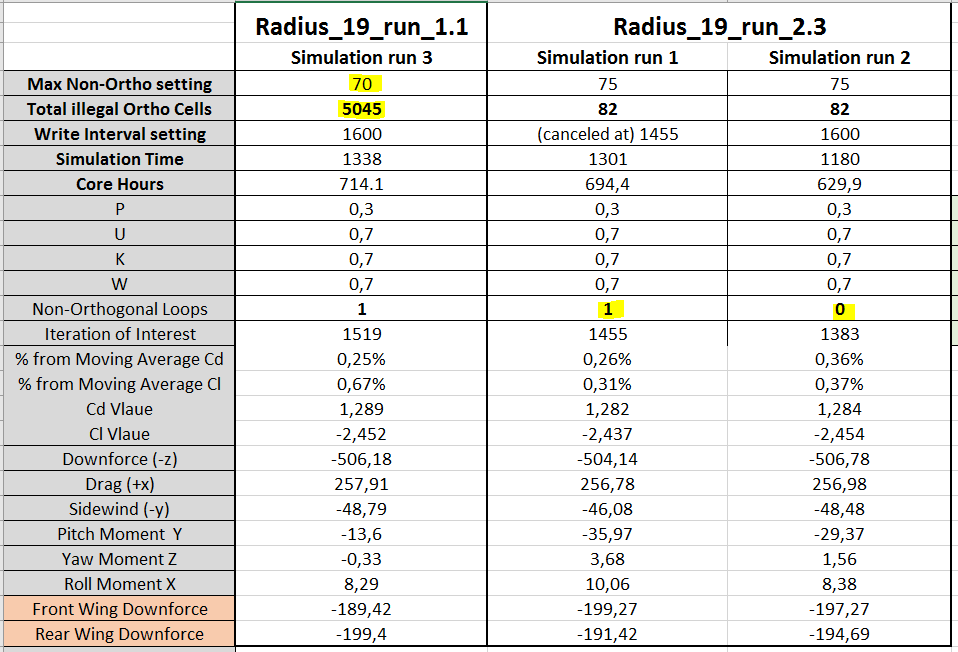 These results are by no means thorough enough to make a definitive answer. However i feel that they are leading somewhere. More evidence is shown in the following plots where i isolated the Y moment results as they were the most unstable.
For this run the last iteration, where the sim was canceled had the best results
Radius_19_run_2.3_Sim_1 Full car - Y moment at CoG
Iteration of interest 1455
Y moment = -35.97
Number of Non-Orthogonal Corrector Loops = 1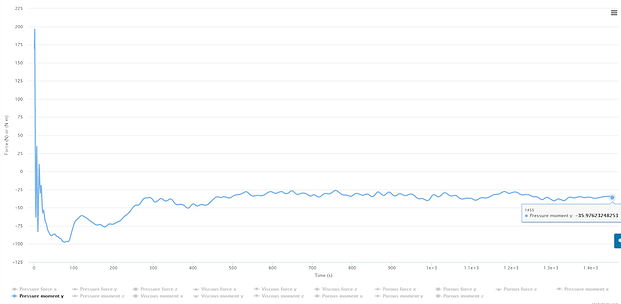 .
.
.
Then in the second simulation with 0 corrector loops, I recorded the data the same iteration from Simulation 1
Radius_19_run_2.3_Sim_2 Full car - Y moment at CoG
Iteration of interest = 1455
Y moment = -30.01
And at the best ORSI value of the whole run
ORSI lowset % difference for run
Iteration of interest = 1383
Y moment = 29.37
Number of Non-Orthogonal Corrector Loops = 0
This shows a difference of 6 Newtons, which is not a lot, but my whole data set for the Aero Map is dependent on these small differences in pitching moment.
One definite result is that using Non-Orthogonal corrector loops means the simulation will take longer (not unexpected). However this makes me think of what @Get_Barried said earlier just switching relaxation factors with the application of Non-Ortho Correctors.
Is the Non-Orthogonal Corrector loop really giving more accurate results (in my situation) or is it simply another tool that allows for stability faster?
As previously stated, there are many problems with my data given here,
I only did 3 tests
I could be using incorrect ORSI data points for comparison
The unlimited amount of inaccuracies in my mesh/Simulation/analysis
Simulations are not run long enough to see true convergence
Anyways, anyone have any ideas on where to go from here, I cannot go too in depth with this as i have to get results soon, however it would be nice to know the error percentage when using incorrect numerical settings. Might be a rabbit hole, but Dale already knows I love those haha
Dan