Hey guys. I´ve been doing some more half FSAE Car simulations, in order to obtain a reliable Cd to me and my team, because we are going to validate it.
My doubt is about the way that Simscale compute the yPlus. I´m currently trying to achieve a range of 30-300 y+ at all my surfaces in my simulations, and i´m experiencing some weird things about the layer formation. Mainly in some specific faces, at the nose of the car and the front tire. In those surfaces, although the layers are beeing created, the yPlus isn´t reaching 30. My plan used to be increase the size of the first layer in those regions until i didn´t see any region under 30. But it does not matter how much do i increase it (I already did 2 tests by increasing a lot the first cell height), the yPlus just didn´t rise, it only get worse!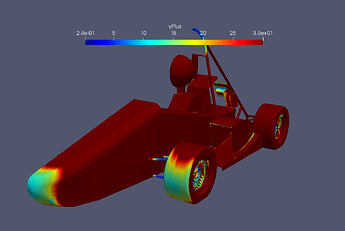 Colored areas are y+<30, visualised using ParaView.
So here is my question, how the Simscale calculate the y+ besides using size of the boundary layer, or in my case, first layer? I´ve read some bibliographies that says it involves Reynolds number and Wall Shear Stress, and it does make sense, because this areas im experiencing problems are the ones where wall shear stress and reynolds are very low because of the low velocity at the stagnation points, making y+ go down.
And this one is the last question: If i´m right about the wall shear stress, and i know that i don´t have any control of it, how do i make this faces go >30, besides incresing the size of the BL?
Here´s the project link https://www.simscale.com/workbench/?pid=4922714590384480106&mi=spec%3A35f219ba-9713-4101-8e99-86f451eaba4d%2Cservice%3ASIMULATION%2Cstrategy%3A166
i´m talking about "Mesh Full 1 layer Raiz", biggest boundary layer cells, simulation "Full 1 Layer 9.0 Sidepod Numerics Copy".
And "Mesh Full 1 Layer", smallest boundary layer cells, simulation "Official Run".