Hello. Non-engineer and first-time SimScale user here. I've created a 3D-printed GPS mount that holds a Bluetooth GPS module. My mount attaches to a RAM mount (very common commercially available suction mount, if you're not familiar), which I will attach to the windshield of my car.
For the sake of learning, I'm trying to use SimScale to see if my mount will survive an accident. I've modeled it and run two simulations on it (one using aluminum, to test it, and one using the material specs provided by the 3D printer). The project is available here:
https://www.simscale.com/workbench?publiclink=de02a0c7-3718-4880-921f-c0fe57b26985
I'm looking for advice on how to configure the simulation for most realistic results. Here's what the mount looks like in real life: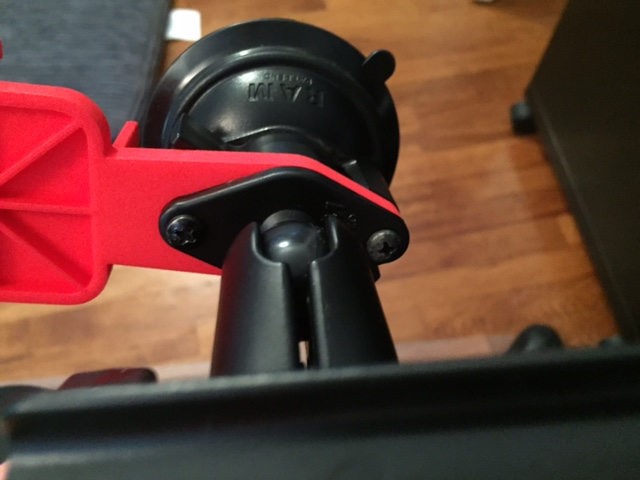 Here's a screenshot of what I selected as my constraint. My logic here is that this is generally the section of the model that is sandwiched in the RAM mount, so it is constrained. I know I need to tweak the model to reflect the actual area sandwiched, but for purposes of learning, let's go with this for now. Is my logic sound? Should anything else be selected/not selected?
Here's a screenshot of what I selected as my load. My logic here is that the 110g GPS module is bearing on this surface. For my load, I did the following math:
110g GPS module * 200G simulated accident load = 22kg load
69mm surface length X 54mm surface width = 0.003726 m2
22kg load / 0.003726 m2 = 5904 kg/m2 = ~58,000 Pa
Are my math and logic generally correct? I understand that there are tons of factors, such as the vectors of the accident forces, the angle of the windshield, the fact that an accident is dynamic and this is a static test, etc., but for learning purposes, am I on the right track?
Any advice for making this test more realistic?
Also, last question…
In the Post-Processor, when vonMises_stress is selected as the field and the scale is set to automatic, is it safe to assume that where the part is red is where the stress has exceeded the critical value and thus the part will start to yield?
Thanks in advance for the help! Apologies if I sound like an idiot - just trying to learn.