Hello
I am having a problem with my mesh failing with the advice to "Increasing the mesh fineness or adding local refinements to geometrical details potentially fixes this issue." I have already searched the forum to help find an answer, and while i know i can just increase the surface refinement level, I am trying to avoid that. I have tried to optimize my meshing strategy so that i can run a half car simulation using 32 cores and have an end result under 10-11 million total cells. This will allow me to also complete full car simulations, hopefully without memory issues.
I am confused as to why this mesh failed because a few weeks ago i ran a successful DRS mesh with:
The same exact geometry (minus wing angle changes without DRS)
The same exact surface,region, and feature refinements (I copied the DRS mesh)
The same exact mesh quality settings - bounding box - etc…
Here is my first successful DRS Run
The only difference was that i split my wake region region refinements into two sections with a lower level farther away from the car to help reduce the total cell count even more.
DRS run with only level 4 region refinement


And here is the Failed mesh run shown below
Split region refinement to levels 3 & 4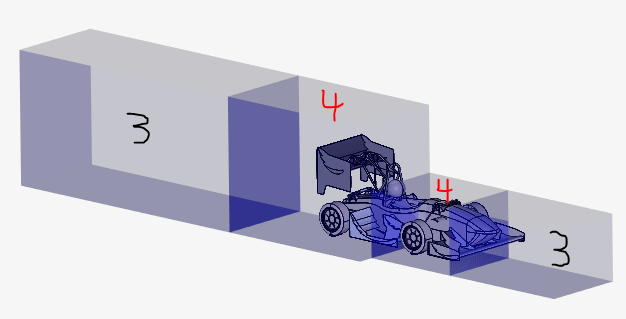 I found a previous failed mesh thread of mine actually that if the mesh achieves the "finalizing parallel run", which my mesh attempts did achieve, that the mesh was actually successful but was unable to save.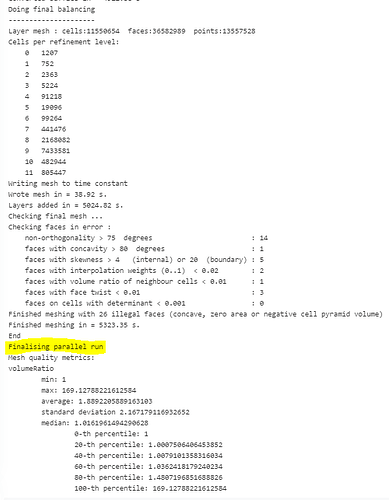 This is from @Get_Barried in my old thread post Here
It mentions "Finalising parallel run" which means your mesh, as mentioned, is actually successful. However, for some reason it was unable to save. So this does point to issue Two where you've actually run out of memory for whatever reason. Your mesh was only 16 million cells which is quite a bit but not too drastic. Try deleting all your unused meshes/projects/geometries/simulations and see if you're able to mesh then.
Anyone know a possible fix without increasing the total cell count?