Hi,
I am working on a venting system for an arrangement of 12 CO2 cylinders (each pressurized to 4500psi).
I am having trouble getting meaningful/sensible results from my CFD simulation.
This picture illustrates the system I am working on.
However I've simplified the CAD to this (in order to save on meshing time):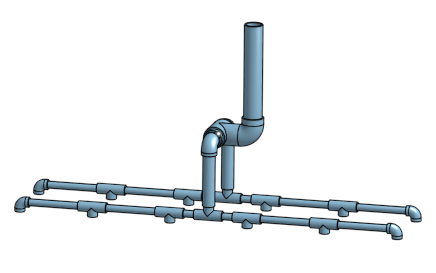 Once the CO2 cylinders are activated, they vent off through the big pipe (vertical pipe) at the top of the CAD.
My setup for the CFD goes as follows:
-Simulation: Incompressible Flow (although CO2 is compressible, I chose incompressible as a first iteration to get an idea of the results)
-Mesh all good
-Material: CO2
-Boundary Conditions: Pressure Inlet at the 12 inlets of the CO2 cylinders (set to fixed value 4500psi)
Pressure Outlet at the top (vent) pipe with fixed value of 14.7psi (atmospheric)
-Run Simulation
This is where I end up with absurdly large values for pressure and velocity. Any help on this simulation would be appreciated. (I suspect my issue are the boundary conditions)
Thanks!