Hi people,
I have been some testing simulations for a new case I am working in and one of the things I tested was the residual control values. Here you can find the case. It is a simple incompressible simulation so for the first run I used the default numerical settings and after that I started to play with it. Residual control is supposed to be used to stop iterating once the given values of residuals are reached. However, this is not happening in the simulations I have been doing, I tried the original 1e-5 first, then I jumped to 5e-4 and then 5e-5. In all these simulations I got exactly the same results, shown below. Actually the log file is exactly the same for all the cases I tried.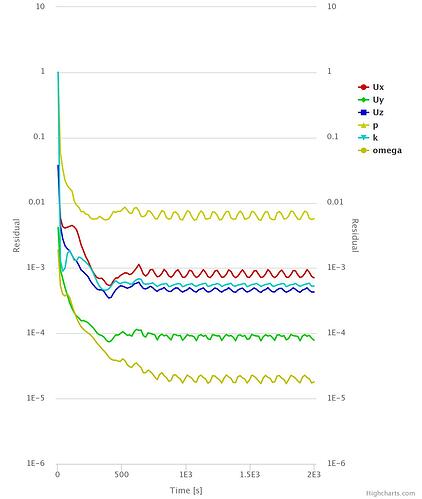 As you can see, omega should have stopped iterating once residual control values were reached (5e-5 or 5e-4), but it didn't happen. What's the reason for this malfunctioning? Some time ago it was working fine in other simulations I did…
Thanks in advance for the help.
Regards,
Alex