Hi, i'm trying to mesh geometries of other users until my team make a CAD of our car.
I have a problem with this car (i think it's a problem of the CAD).
Anyway i want to know why simscale created little triangles around the geometry. Are these the illegal triangles reported in the message of mesh's errors?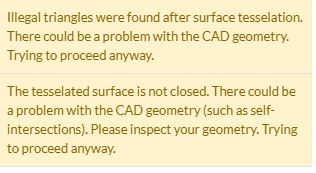 Why Simscale created this triangles? Is possible to fix this problem? Are they a real problem for simulation?
This is the link of my project: https://www.simscale.com/workbench/beta?pid=5591107449416848299&mi=spec%3Ac176e86f-b257-4012-8fb4-9e639851a00e%2Cservice%3AMESHING%2Cstrategy%3A2&ps=
Thank you for read!