Hi all,
I was curious about some of the Concorde's delta wing vortex lift characteristics and decided to model it.
I got a great cad file off grab cad and proceeded to de-feature it. It took a lot of de-featuring but eventually sim scale reads nothing too faulty on geometry import other than a vertex warning which I get with most of my projects. The issue came during meshing, it appears that hex mesh is ignoring some faces of my model, namely the faces of the fuselage, and replaces them with several flat planes. The geometry appears correctly in the viewer and the wire frame doesn't show any internal bodies (there shouldn't be since I used de-feature to remove internal bodies several times).
This is the geometry used to model.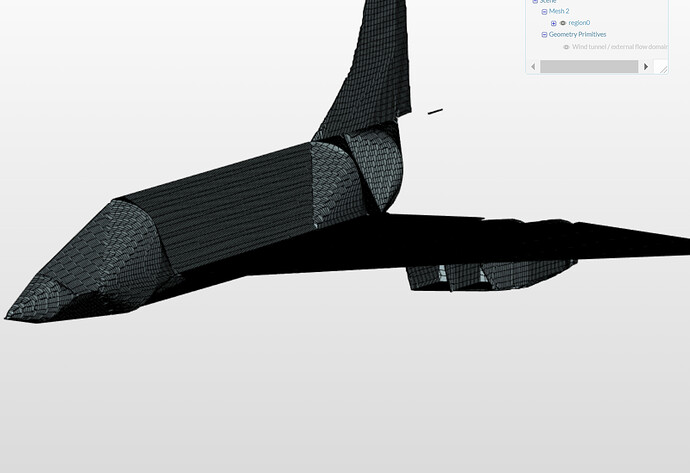 This is a mesh created using a parametric hex mesh wish feature, surface, region and boundary layer refinements.
Fuselage, nose, and tail faces are missing.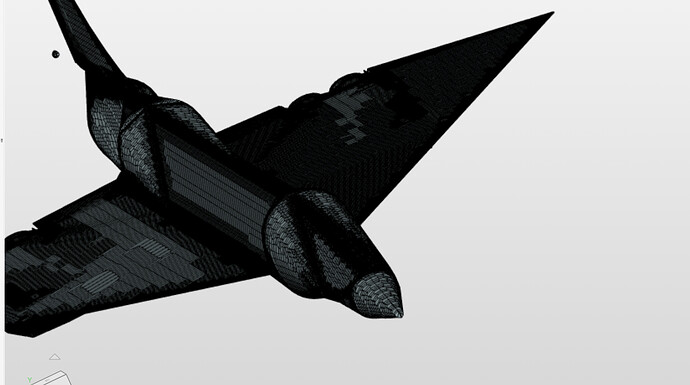 This is a mesh created using the wind tunnel snappy hex mesher to confirm the error.
If it is of any help, I was also encountering a "machine out of memory" on 32 cores error when doing a mesh that, once I got it working (counter-intuitively by decreasing the used cores to 16) was only ~2 million cells.
I've moved the material point, bounding box, and changed all the mesh refinements trying the fix this but no luck. I've also checked everything the the geometry I can in solidworks and it says all faces are ok.
If any one has any idea how to fix this that would be excellent, it seems like quite the odd issue.
Project link: https://www.simscale.com/projects/JacksonEmpey/concore_vortex_analysis/