https://www.simscale.com/workbench/?pid=7968484573685321699&mi=spec%3A7c7d34a4-aaa4-4b0c-9c9e-2bc8017f7862%2Cservice%3ASIMULATION%2Cstrategy%3A2&ps=analysis%2FboundaryConditions%2F0


I have created a simulation of flow around a cylinder. In this simulation, we are going to see the flow passing through the cylinder, the required details we need is
Geometry

Suitable Mesh

Exact simulation

GEOMETRY CREATION IN ONSHAPE:

The cylinder geometry is made in OnShape of the radius of 50mm and the flow geometry of 100mm and 300mm (all units are in mm).


'
Then Extrude the geometry to 50mm.


SIMULATION:

For the Simulation, we are going to import the geometry to Simscale and then choosing Incompressible flow. First, we will be doing the simulation with the water and then we will follow with Air.
1.WATER_FLOW AROUND CYLINDER: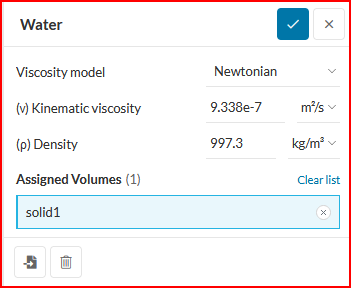 Then the velocity Inlet, Pressure Outlet,
Velocity Inlet - 0.6[m/s] In x Coordinate
Pressure Outlet - 0[pa] In all coordinates
other fronts, back, top, bottom are marked as symmetry (NOTE: If no boundary field is marked for the respective faces then by default it takes that face as a wall).
complete the Mesh then Complete the Simulation with the required graphs.
The same procedure is Followed for the AIr Flow Simulation.