Hello,
I am trying to perform a simulation of a sheet metal ring being formed and I want to calculate the springback in the ring.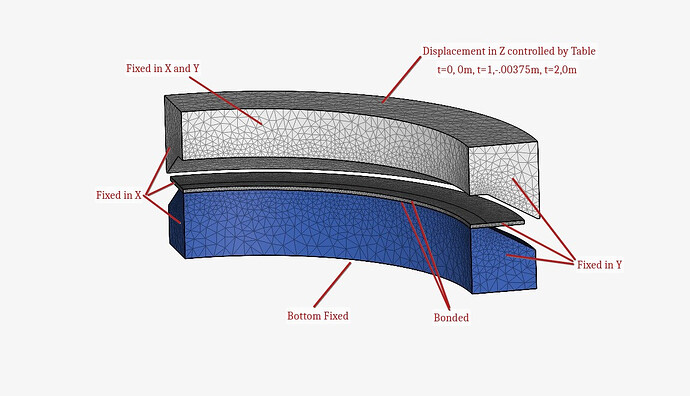 The forming part of this problem runs just fine. As you can see from Run 6.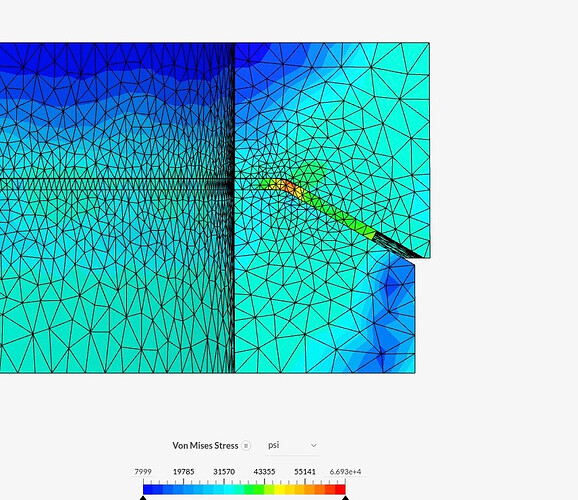 The error occurs when I start to remove the load on the sheet metal.

As you can see this error occurs at t=1.003, the first time step where I am removing the load. I have tried using half the maximum displaced value ( -.001875) and I still get this error at the point I start removing the load. At this point the material is just starting to bend so I don't think this is a deformed element or mesh issue.
I have also tried changing the the time so the maximum displacement happens at t=.5 and the error still happens at the first time step that starts to unload the model.
I tried changing the loading from a table to cosine function and I still get the same error. If did however, shift the point at where the error occurred. You can see this in Run 9 and the error occurred at t-.5.
I did find an old post on the Code Aster forum about this issue (from 2012).
https://www.code-aster.org/forum2/viewtopic.php?id=17501
---
Indeed when unloading an elasto-plastic structure you need to tweak some numerical parameters :
since unloading occurs with elastic stiffness, using the TANGENTE matrix is usually not advised (unless as you pointed out you do very small time steps and use line search)
the recommended way of treating elastic unloading is by setting PREDICTION='ELASTIQUE' in order to use the elastic stiffness matrix for the first Newton iteration of each time step, this will help the algorithm get back on track and then the TANGENTE matrix will be OK for the remaining iterations (particularly is plastic hardening occurs during the unloading)
---
I did try changing this parameter but it has no effect on the simulation.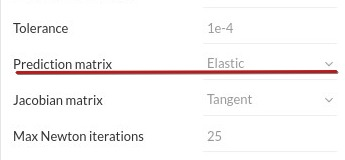 I would appreciate any help anyone can provide. My project lnk is here.
https://www.simscale.com/workbench/?pid=7133437630363804484&mi=spec%3Af5f5a831-bca9-4e2d-aa8f-14994861e49c%2Cservice%3ASIMULATION%2Cstrategy%3A9%2Crun%3A60&ps=analysis%2Fnumerics
Thank you,
Christopher