Hey,
i have again a time continuity problem with my multiphase (Water, Air) simualtion. It should be a rain overflow in the sewerage simulatet.
Here is the Link to the projekt.
The picture shows you the geometrie. The BC1(Inlet) is a Velocity inlet with 2 m/s, the BC2(Outlet) ist a pressure out, but the Water should not reach it.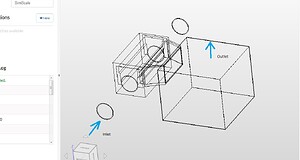 At the first try i used the set numbers for the mesh in x,y, and z direction, furthemore i had problem to see and select the inner walls for the mesh refinements. The walls of the rectangular basin are very thin.
Mesh 1 Run 2:
I used a cartesian Box at the inlet, filled with Alpha phase 1. In order to run over quick.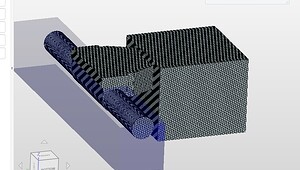 But the sim stops at 54%.
Mesh 1 Run 3:
I used a second cartesian box an the bassin, also filled with AP1 (Water).


It stops at 53%.
Mesh 1 Run 4:
The second CB is 0.2 m higher at Run 3.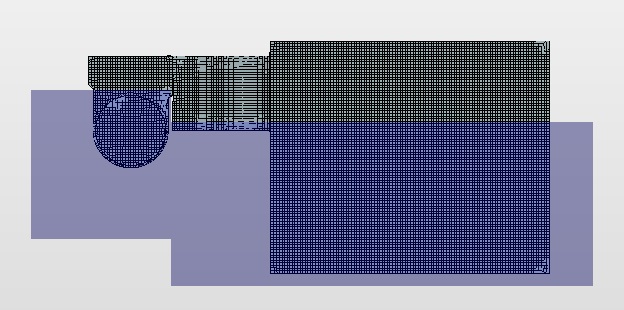 It stops at 69%.
Now i make at second Mesh with thicker walls, so that i can easly see and select it, to make the mesh refinements, i also use approximatley the double count of cells in x,y and z direction.
The boundary conditions are the same like Mesh 1.
Mesh 2 Run 1: I used only the inlet pipe cartesian box 1.
Mesh 2 Run 2: Add a second cartesian box at the basin with the high of 2.5.
Mesh 2 Run 3: Change the high of CB2 to 3.0.
Mesh 2 Run 4: Change the high of CB2 to, 3.4.
Als Runs are broke up at app. 40%-60%.
Here is a screenshot from the last second of Mesh 2 Run 1.

Maybe it helps.
Why is the calculation stops at around 60% every time ?
Thank you for your help.
Kai