Hi all,
Recently, I've been trying to mesh a simple aircraft for transsonic simulation (500 mph at 40,000 feet). I've done the Y+ calculations (I'm using wall function, so targeting a Y+ of around 140), and I've entered in all the relevant information into the "inflate boundary layer" refinement. However, I've found that the boundary layer only forms for part of the wing, and is super jagged for the rest of the wing. "Layer size" has already been turned off.
I've seen some earlier forum posts that tell me to disable the min volume check, but I've tried that and it has no effect. I've checked the mesh logs and it appears that the cells are being generated, but then tend to be removed. Most of the problem cells are classified as such becomes of nonorthogonality or face twist, however, I'm hesitant to disable those checks in quality control. Anyone has any ideas?
Screenshot of cells being deleted:


Screenshot showing missing BL: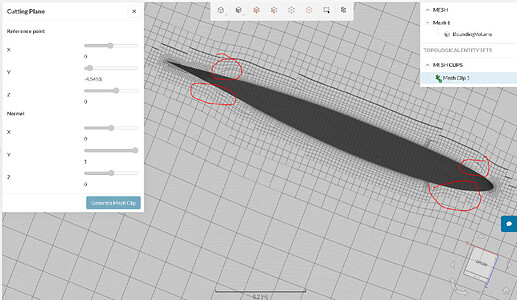 Thanks!