Hey,
Trying to do analysis of SATURN V's bolted nozzle assembly for assignment
The problem mentioned is: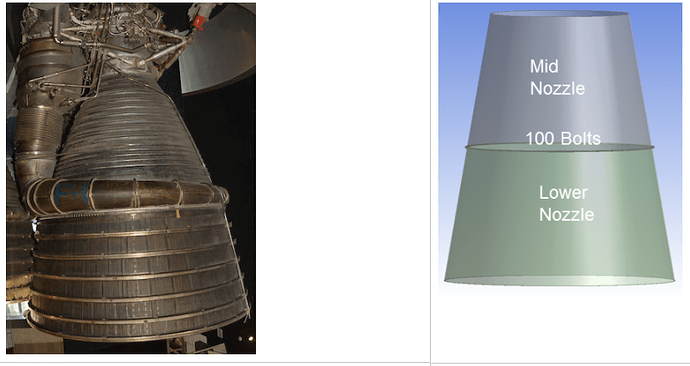 "The pressure due to the exhaust gas in the nozzle is calculated using 1D gas dynamics. It is assumed to vary linearly along the nozzle axis. The pressure at the exit (z=0) is 12.17 psi and the pressure at the entrance to the mid-nozzle is 47.72 psi.
The regeneration channels are omitted in the model. In exchange, a free body diagram is used to deduce the equivalent forces on the mid nozzle and lower nozzle (the upper nozzle is not modeled here). This force pair is modeled as two separate forces, each of 1000 lbf. The gas temperature is 700 F which causes thermal strain. We assume that bolt is pre-loaded to 50% of its breaking strength."
For example: If I wanted to do this simulation in four steps. I want to provide preloaded tension on the bolt for all four steps and pressure which is varying linearly in 3rd and 4th not in 1st and 2nd.
So how can I provide the Pressure condition on two value of z top and bottom and meanwhile switching them on at the 3rd and 4th step?