Hi Rohit!
Here a small instruction on how to achieve that - also works for the mesh!
---
Let me know if that helped!
Jousef
HI sir,
finally its work for me thank you very much.
i face another problem please solve this issue also.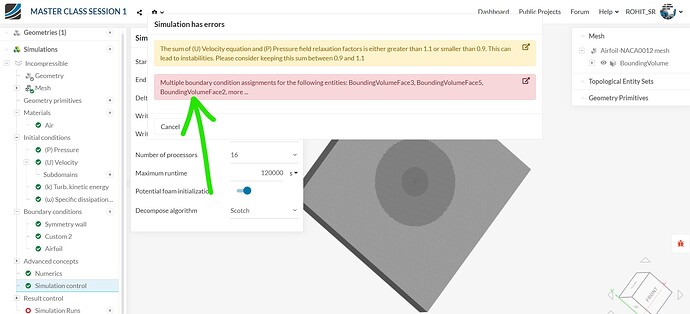 already post in form but not receive any response so please help me
form link
project link
https://www.simscale.com/workbench/?pid=7648186729059263142&mi=spec%3A269d5f5e-54f7-4282-83dc-9eff3f5331f7%2Cservice%3ASIMULATION%2Cstrategy%3A2&ps=domain
Thank you,
ROHIT
Hi Rohit!
Awesome!
You accidentally assigned the airfoil to the whole domain. Simply delete the assignments and only choose the Airfoil for the no-slip boundary condition. The error should then disappear.
Best,
Jousef
hi sir,
here is step i am follow
select domain of airfoil-naca0012

but there is problem in mesh section when i was select "USE MESH AS DOMAIN" then automatically problem in geometry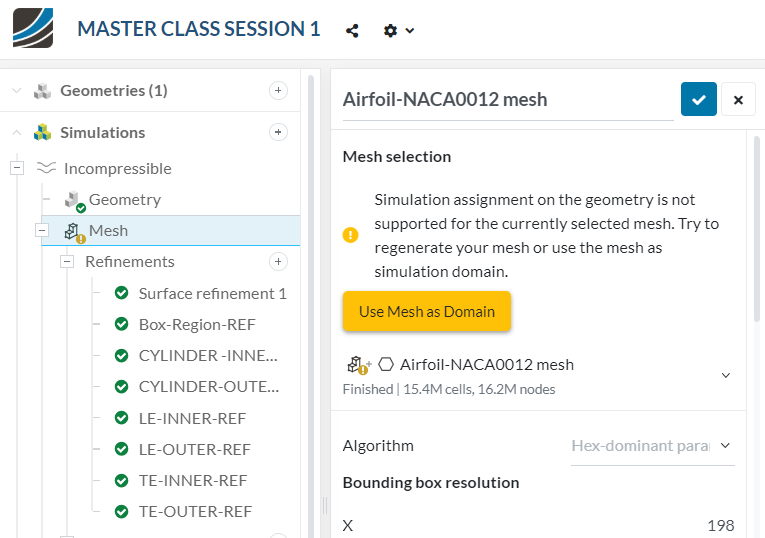 if you have some time then please open my geometry and set only this section where is problem are happen. when i was select airfoil-NACA0012 and not select "use mesh as domain" then problem occur in bc i cant select surface in symmetry bc. please help me.
thank you
rohit.
Hi Rohit,
did you click on the "Use Mesh as Domain" button? Usually that should do the job.
Cheers,
Jousef