It would be a real time saver if topological mapping (of loads and constraints) could be maintained with changes in geometry. I would like to propose a method of doing this.
In SolidWorks (and I assume other CAD packages) it is possible to name faces and edges.
This naming is preserved in the STEP file output.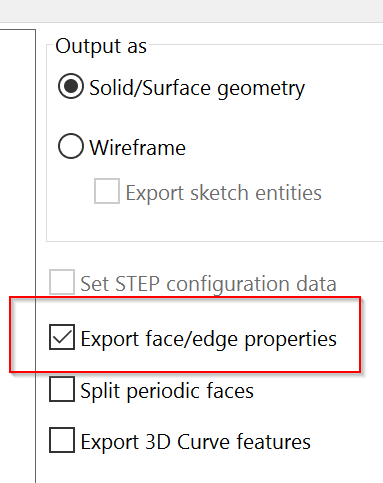 In the screen shot below the custom face name created in SolidWorks can be seen in Salome.
It should be possible to use the names of geometric entities to maintain a link between geometry and topological entity sets (TES). As I see it there are two ways of doing this.
(1) Direct mapping - The mapping used in a previous TES definition is used to map new geometry to a new TES definition. So SimScale would attempt to find the geometric entities (by name) used previously and add them to the new TES group. Any changes that do not directly map (added or removed faces) would need to be made by hand.
(2) Rules based mapping - The user defines a set of rules to control which geometric entities get added to a TES. For example, any face with a name matching the string Fix* (with wildcard character) would be added to the new set (so Fix1, Fix2, Fix3 etc would all be added).
The final piece to the puzzle is maintaining the TES definitions when changing the mesh in a simulation. So if a mesh is changed and the new mesh has a TES with the same name as the previous mesh then all definitions using this TES should be maintained.
The advantage of this approach is that the naming only has to be done once in the CAD file. From then on even if the position, shape, size or quantities of geometric entities change the naming should maintain the links as required.
Is something like this a possibility?